Wedding Cake
Search Ideas
Below, listed by categories, are articles written for the most popular wedding cake keywords.

Use these exact phrases to visit new websites.
Wedding Cakes
Wedding Cake Toppers
Wedding Cake Pictures
Wedding Cake Stands
Wedding Cake Costs
Wedding Cake Bakeries
Grooms Cakes
100% Unconditional Guarantee
Our Method Of Buying A Wedding Cake Will
Save You More Money, Make It Easier
And Give You A Better Experience
...Than Any Other Way!
Join over 110,000 brides who have used WeddingCake.org's "Ultimate Bride's Guide To Buying A Wedding Cake."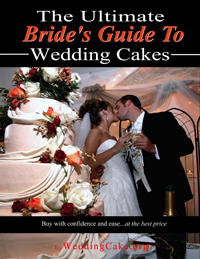 It's considered the best collection of Authoritative, Hands-on, "Here's How You Buy A Wedding Cake" Advice"...Period!
After you go through it, you'll understand why it's the most recognized and used source not only by brides, but many leading wedding websites and magazines.
If you want an
easy to follow roadmap
for
choosing a first-class and affordable wedding cake designer
—this is your guide.
I mean everything is explained, even things you need to know, but didn't know to ask.
In fact, I'm so sure "The Ultimate Bride's Guide To Buying A Wedding Cake" is worth at least 10-times its price, you'll receive a no questions refund if it doesn't do everything I said it will.
Happy wedding cake shopping,
Denny Thomas

• COMING SOON •
An innovative concept for you to save more money and
make buying a wedding cake more convenient.
We have recently launched a test website in Omaha, and soon to follow in Denver and Kansas City.
The websites allow you to upload 4 photos and receive prices (bids) from qualified wedding cake designers and bakers.
Take a look and share your opinion with us.
OmahaWeddingCakes.com
Planned future cities include: Dallas, Atlanta, Chicago, San Diego, Boston, Los Angeles, Las Vegas, Portland, Seattle, San Francisco, New York City, Houston, Birmingham, Cincinnati, Phoenix, Philadelphia, St. Louis, Austin, Columbus, Miami, Milwaukee, Nashville, and Cleveland.
ENTER TO WIN $100
To pay the baker of your choice
for your wedding cake
One winner every other week!
You'll automatically be registered for 3 consecutive biweekly drawings.
Official contest details and rules